Did you know that you can earn $$ as Vested keeps growing?
Ever since we launched, our amazing users have helped us amplify our impact simply by referring Vested to their friends and family. We wanted to find a way to make referrals even more attractive for investors like you, and are glad to announce our new Referral Chain Program.
There are three ways in which you can earn through our new referral program:
You will earn rewards for each referral that creates a Vested account and deposits funds into their Vested brokerage account.
You will also earn rewards for every deposit made through Vested Direct by your referrals.
Additionally, you also earn every time your referral's referrals make a deposit!
So you not only earn when your referral invests with us but also when their referrals invest. You quite literally start a chain reaction that continuously rewards you!
You will earn rewards in Vested Points. You can redeem these points for cash, stock or…. We will keep adding exciting new ways in which you can redeem your Vested Points.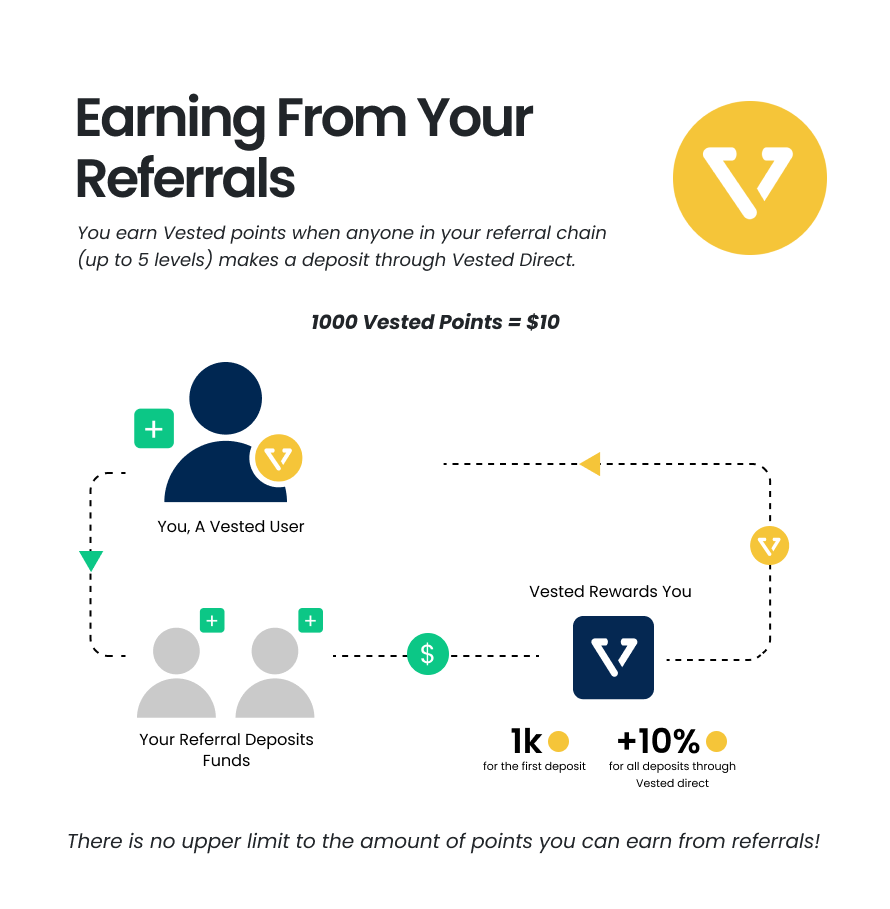 Vested's Referral Chain Program
Here is how it works.
You refer your friends to Vested
Your friends fund their account for the first time
They get 1,000 Vested Points each. You get 1,000 Vested Points for each friend . (100 Vested Points is equivalent to $1)
You earn additional Vested Points (no upper limit) for every deposit made through Vested Direct by your friends and their referrals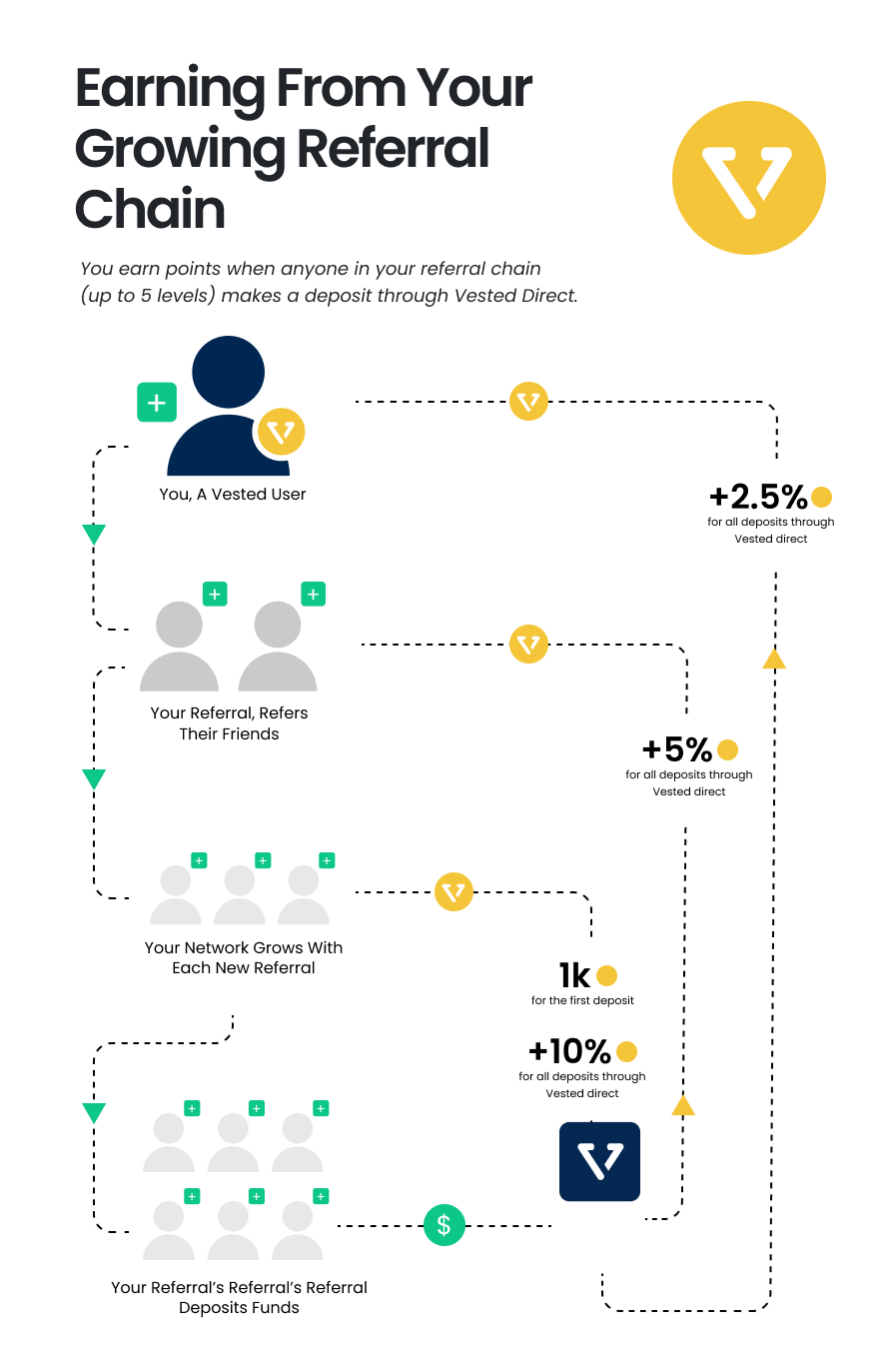 Pretty cool, isn't it? Let us take an example. Let us say you refer a friend, and they deposit funds into their account. You have already earned 1,000 points. If your friend makes a deposit of $1,000, you earn 10% of that as points. So, you earn another 100 points. If you refer 10 friends, you can earn up to 15,000 points if each friend makes a deposit of $1,000. You will keep earning 10% of every deposit that your 10 friends make on Vested using Vested Direct.
But it does not end here. Whenever each of the friends you have referred refers their friends, you earn 5% of the deposits your friend's referrals make, as points. In the next level, you earn 2.5% of deposits as points. This goes up to a total of five levels where you earn 10%, 5%, 2.5%, 1.3%, and 0.65%, every time someone in the chain makes a deposit.
Remember how you learned about geometric progression in school? The referral chain program works exactly in the same way. As each of the friends you refer, refer more friends and they too add funds to their account through Vested Direct, you keep earning points.
At any time, you can redeem 100 Vested Points for $1. So, if you have 10,000 points, you can redeem them for $100 which will be credited to your Vested brokerage account. You can use the redeemed cash to invest in your favorite stocks through your Vested account. So, the more friends you refer, the more you earn, and the more additional cash you will have to invest in US stocks and ETFs of your choice.
We wanted to find a way to keep rewarding Vested customers for helping us grow and we hope that this new referral program will help do that.
Head to the Referrals section on the platform for more details about the program. You can also find more details in our Referral Disclosures here.
As always, you can reach us at help@vestedfinance.co for any questions or concerns about the program.
Was this post helpful?
Let us know if you liked the post. That's the only way we can improve.