Facebook's drop, Amazon's pop, and Google's strong 2021 explained
In this blog, we continue our coverage of the Q4 earnings of tech giants. We discuss Facebook's drop, Amazon's pop, and Google's strong 2021.
The two problems facing Facebook (Meta Platforms)
The day after Facebook's earnings call, investors woke up to this (see Figure 1 below):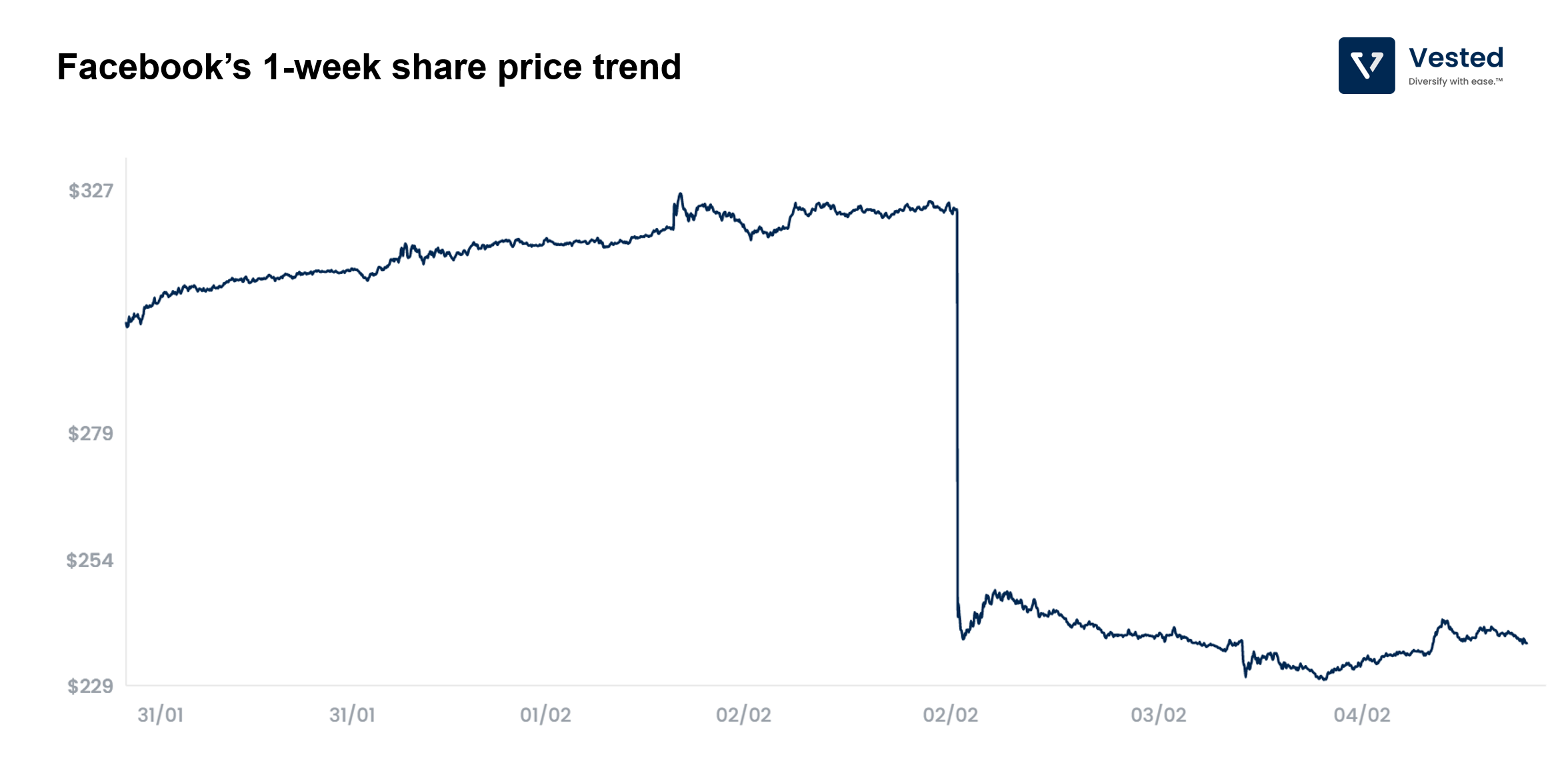 Overnight, Facebook lost 26% of its value. The largest single day drop for one of the largest companies in the world. What happened? Well, in the earnings call, it was revealed that the company has two problems.
The first problem: Facebook is facing fierce competition from TikTok for user's time. Unlike Facebook, TikTok is not a social network. It's a single threaded video app that provides bite-sized entertainment. When using TikTok, you do not need a social graph (friends or people to follow) to populate your feed. Despite this difference, both Facebook and TikTok compete for the same thing: users' attention. When you're bored, you either check your Facebook/Instagram feed (depending on your age) or your TikTok. Increasingly, TikTok is becoming the app of choice.
Facebook has recognized this issue for some time now. Within the company, the main Facebook app is called the "big blue app". It started off as a social network for college students, but now 18 years into its existence, its core users are older. Although the current demographic has higher purchasing power (which is good for advertisements), an aging population within a social network is less than ideal for future growth. Teenagers' usage of the big blue app has declined by 13% (in the US) in the past two years, and is projected to further drop by another 45% in the next two years. In other words, Facebook has an aging problem.
What's Facebook doing about TikTok? Copy it of course. The company launched Reels, a TikTok like feature, in Q4 last year. To jump start adoption, Facebook is offering lucrative rewards for influencers. Â
Because Reels take valuable real estate away from other Facebook's more mature features, News Feed (in the Facebook app) or Stories (in Instagram), this release will result in a short term decline in revenue growth. The last time Facebook introduced a new feature in 2018, Instagram Stories, revenue growth slowed down since ad dollars spent only followed the increased time spent on the new feature after the fact. At the time, Facebook's share price dropped 19%. But over time, growth returned.
The second problem: The impact of iOS tracking changes (or ATT). Apple's ATT was launched last year. It allows users to easily opt out from being tracked (it also favors Apple's internal ads platform). The impact of this change was felt industry wide, and by Facebook most acutely. The implementation of ATT reduces ads targeting accuracy and leads to under reporting of conversions in iOS devices. This hurts Facebook's profitability.
In the earnings call, Facebook revealed that the ATT reduced the company's sales by $10 billion in 2021. That's 8% of annual revenue. The company expects that the headwind will continue in 2022.
There are two ways Facebook is countering this.
Internalize conversion of advertising so that it happens within Facebook. ATT tracking does not block the tracking of conversion that happens within the app (e.g. you buy an item within the Facebook app after seeing the ad for the item within Facebook). So internalizing conversion is one way to address this issue. The company started this effort last year by partnering with Shopify (bringing the ecommerce shop into the Facebook platforms). In a world where cross app tracking is increasingly difficult, internalization strategy becomes more important (as you can see when we discuss Amazon's and Microsoft's ads revenue subsequently).
More AI investments to deliver relevant ads with less data. Last week, Facebook announced that it's building the world's fastest supercomputer cluster.
As you can see, the strategies to counter these two problems require a pivot to a new product that is less profitable (Reels) and increased investments (AI and internalization), which hurts the bottom line in the short to medium term. This is also confounded by the fact that the company will increase investments in its VR platform (to the tune of $10 billion in 2021 alone).Â
Google's (Alphabet's) strong Q4 2021 earnings
Google (Alphabet) also announced Q4 2021 earnings. In contrast to Faebook's, Google's was another record breaking one. It generated more than $75.3 billion in revenue in Q4 2021, growing 32% year-over year. See the trend below.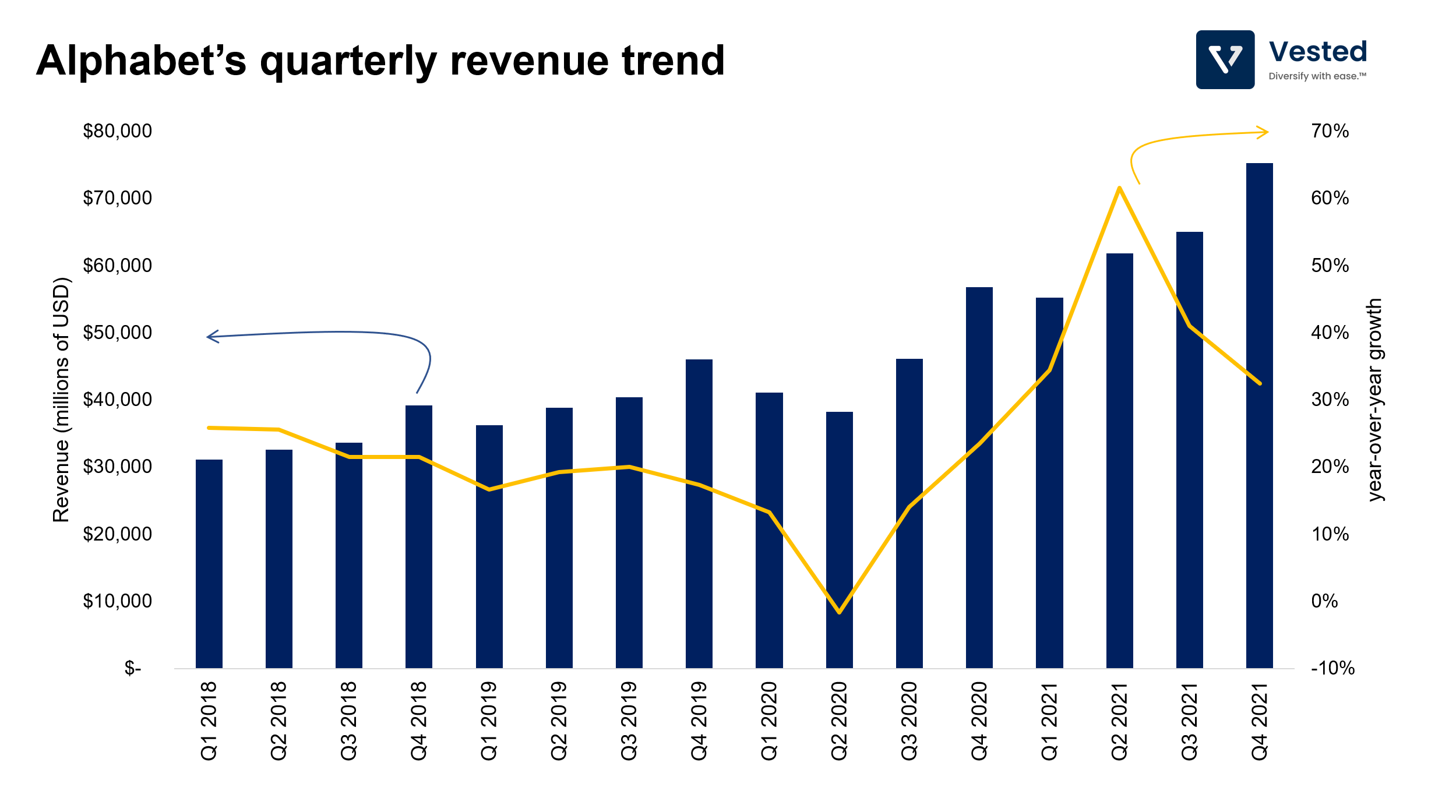 We mentioned the importance of internalizing the conversion within one's own application. Google has been early to this trend and is now reaping the benefits, thanks to the changing nature of search. It used to be that search starts on the web, which redirects you to a third party website where commerce happens. Increasingly, that is changing:
In the physical world, you can search directly in Google maps for the things you desire, whereby Google's connectivity with the store's inventory helps connect the consumer with the store in the physical world. From their earnings call:
"Global searches for "gift shops near me" jumped 60% year-over-year in October with searches for "gifts near me" up 70% in Google Maps. People increasingly want to know what's available nearby – before they get to the store. Our new "In stock" filter helps with just that. Shoppers can find local stores that carry the products they want – right from Search. Like a new tennis racket or that last minute birthday gift. Showing in-store availability helps businesses attract local customers. And they've caught on: 1 in 4 local offers across Shopping and Google.com are taking advantage of our curbside pickup badge."
When consuming content on YouTube, you can directly buy what you see on the screen.
"… We're making it easier for viewers to buy what they see – and simpler for advertisers to drive action with innovative solutions like product feeds in Video Action Campaigns and emerging formats like live commerce."
Amazon's strong 2021 finish
While Facebook's drop set the record for the largest single day drop of a major company, Amazon's jump set the record for the highest single day increase. The company's stock has been largely flat throughout 2021 due to concerns of inflation and increasing capital expenditures to achieve one day shipping (an important strategic initiative that we discussed in great detail here).
What caused the pop? Two things.
The first: The growth of the cloud computing segment (AWS) is re-accelerating (blue line in the Figure 4 below). In Q4 2021, AWS generated $17.8 billion in net sales, growing 40% year-over-year.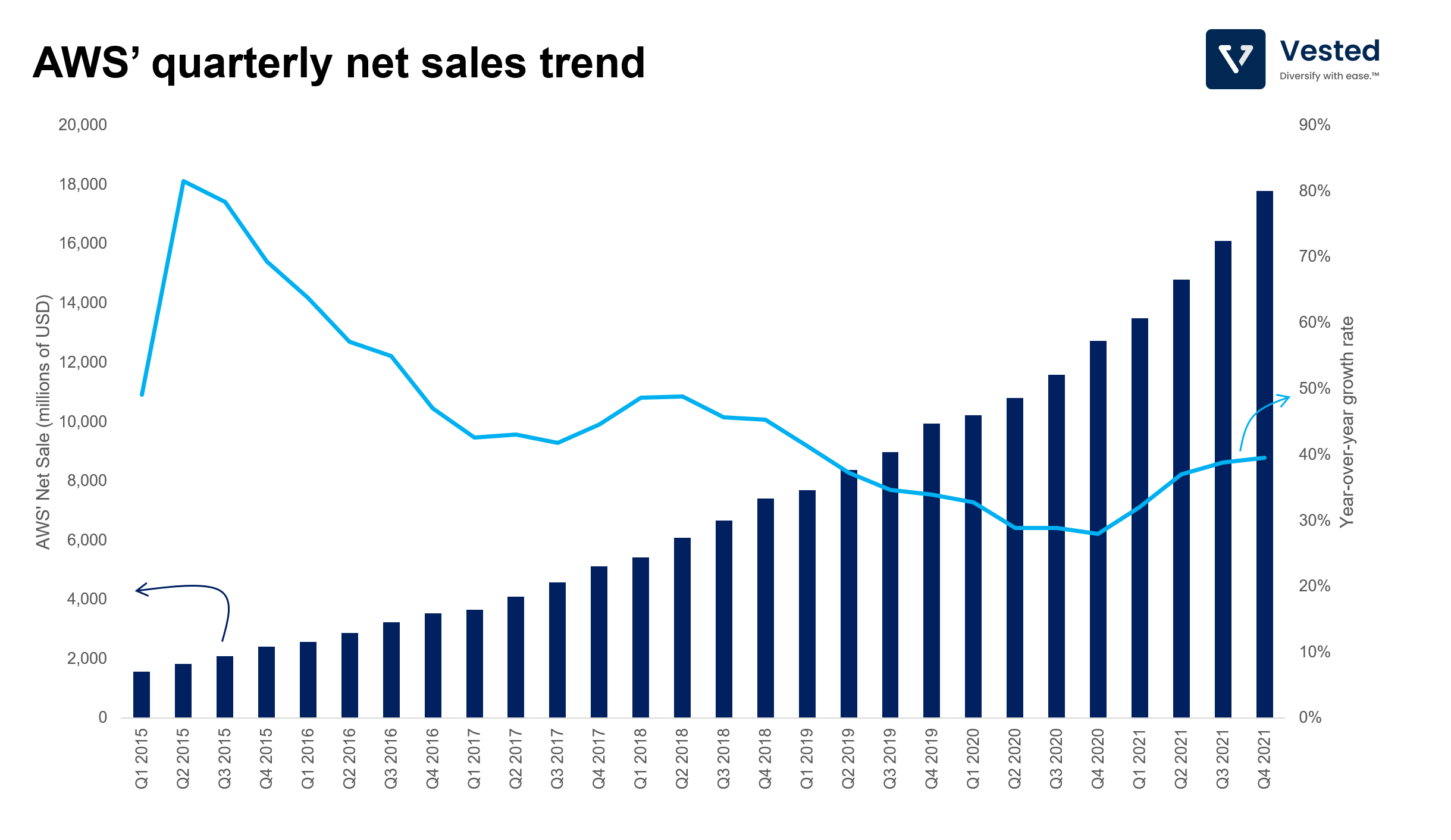 The second: The ads business (where Amazon charges 3rd party vendors ads services for placement within its website) has become large enough that Amazon started to report it separately from other revenues. In Q4 2021, Amazon made $9.7 billion in ads sales, growing 32% year-over-year.
The standalone ads business is turning into a massive high margin revenue source. And because Amazon's ads are 100% internalized, ads are shown within Amazon's properties, leading to purchases within Amazon's website/app. Any prohibition of cookies or 3rd party tracking that is impacting Facebook does not impact Amazon's ads business.
To put the size and scale of Amazon's ads business in perspective, here's how it stacks up against the other ad platforms (Figure 5 below – note that Y-axis is in log-scale).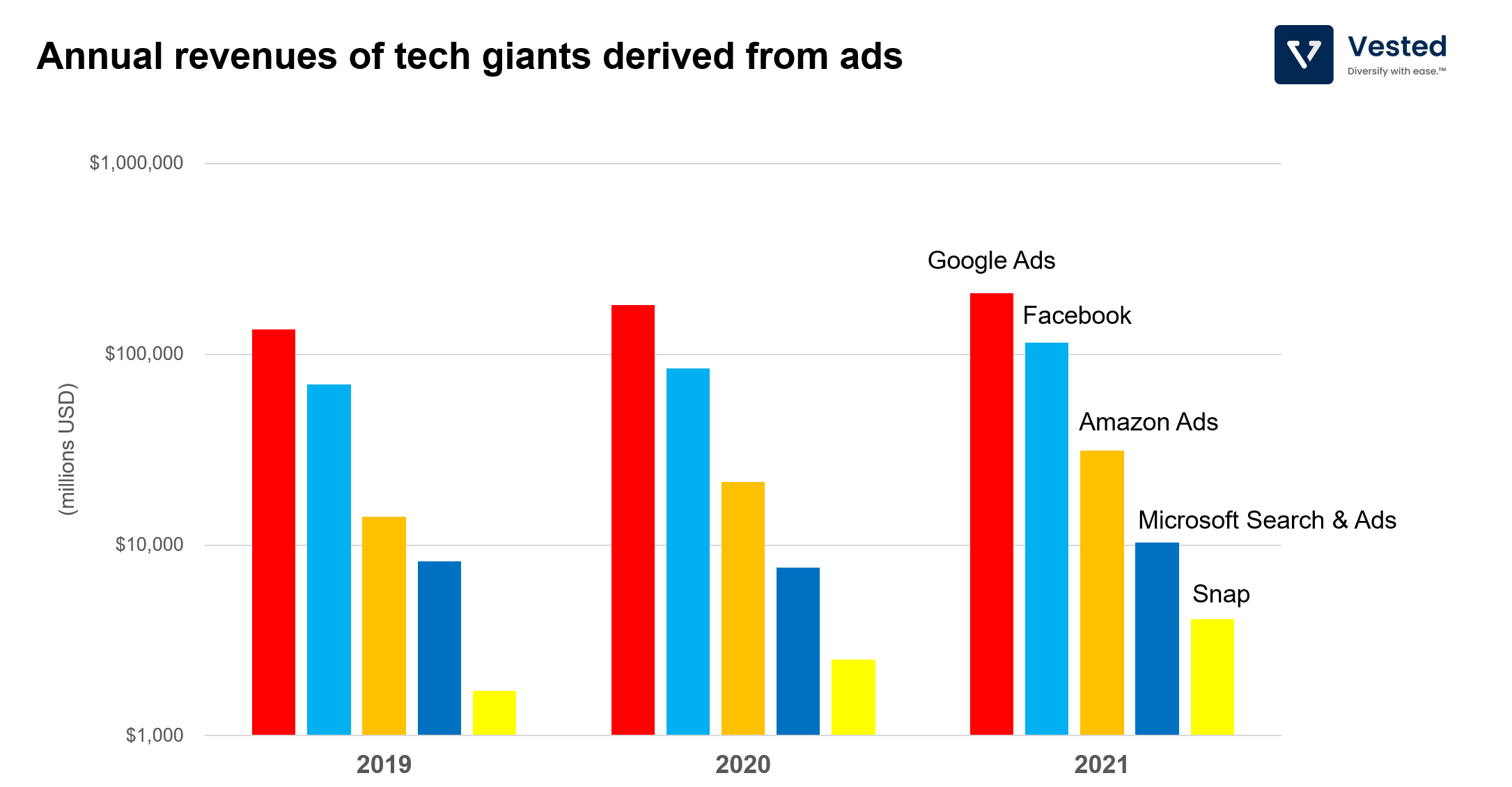 Amazon's ads business is the 3rd largest, growing rapidly. Two years ago, it was 1/5th that of Facebook's revenue. In 2021, it's ~27% of Facebook's revenue.
Are you surprised to see Microsoft in the chart? You shouldn't be. Microsoft owns Bing, has its own browsers (Edge and I.E.), and is equipped with its own ads network. It also owns LinkedIn, which generates advertising revenue.Â
In the calendar year 2021, Microsoft generated more than $10 billion in ad revenues. In their latest earnings call, Satya Nadella made a point to emphasize the company's growing advertising investments. To add another data point that highlights the importance of the internalization strategy – Satya called out one of its recent acquisitions, Xandr. Xandr is a data platform that connects different media properties and internalizes tracking across properties.
Was this post helpful?
Let us know if you liked the post. That's the only way we can improve.