In today's edition:
Amex revenue hits record high
First Republic Bank sees a sharp drop in deposits
Tether's market cap approaches an all-time high
Samsung expected to report its worst quarterly profit
TikTok Shop booming in Indonesia despite international setbacks
Market Snapshot
The S&P 500 and Dow Jones reached new four-week lows on Wednesday, while the Nasdaq Composite index rebounded marginally from a four-week low due to stronger-than-expected first-quarter results from tech giants Microsoft and Alphabet.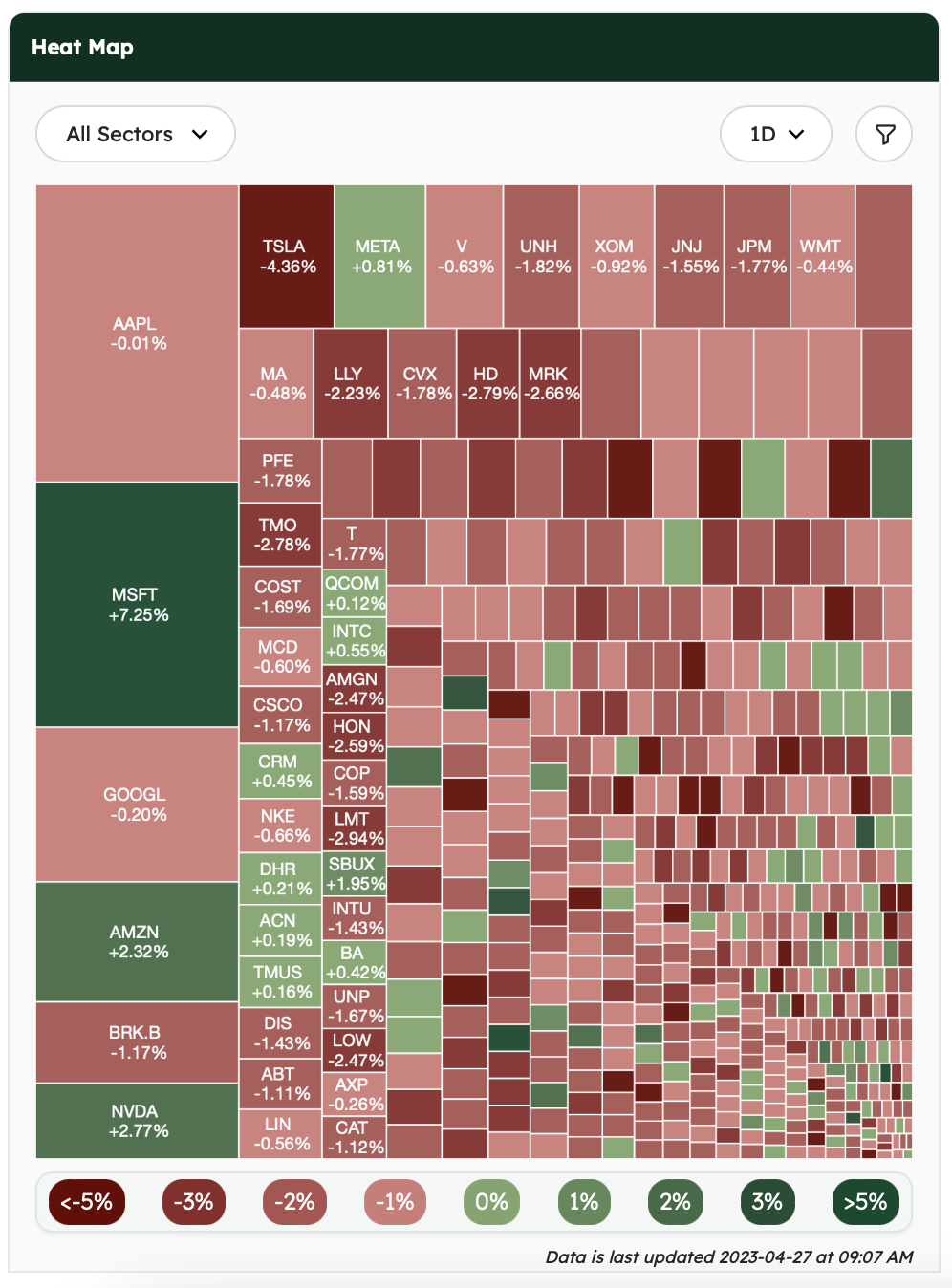 ---
News Summaries
American Express (AXP) has reported a 14% increase in spending volume, leading to record revenue of $14.3 billion in Q1 2023, with its Platinum Card driving growth. Amex holds a unique position in the premium credit card market, generating $52 billion in revenue last year with 135 million cards in circulation. The company also sees potential for further growth as 60% of new card signups came from Gen Z and Millennials in Q1 2023. However, Amex's share price fell by nearly 4% after announcing a $1.1 billion reserve to cover future loan losses. Contributing factors to the potential debt pileup and default include depleted pandemic-related savings, stagnant wages compared to inflation, and the impact of rising interest rates on the economy.
First Republic Bank (FRC) saw a sharp drop in deposits, which fell by more than 40% during Q1 2023 to around $72 billion. Despite major banks depositing $30 billion as part of an industry-led effort to bolster depositor confidence, the drop in deposits was much higher than analysts had predicted. The bank suggested that the outflow of deposits had slowed since late March; however, the market reacted negatively to the news, with the stock price dropping by about 20% in after-hours trading. First Republic Bank has been the worst-performing company in the S&P 500 over the last 12 months, with its stock down over 90% since the start of 2023.
The market capitalization of Tether (USDT) is approaching an all-time high of $83 billion, up over 18% since the start of 2023. Tether's dominance in the stablecoin market share has reached a two-year high due to regulatory concerns surrounding US stablecoins like USDC and BUSD. Tether has managed to steer clear of these concerns as it is located outside of the US and is not regulated. Despite previous concerns about Tether's backing, investors seem to prefer dealing with this issue rather than facing murky regulation, as is the case in the US. This marks a shift in perception from a year ago when Tether was considered one of the most significant risks to the crypto market.
Samsung, the world's largest producer of memory chips, is expected to report its worst quarterly profit since 2009 due to an industry-wide glut in memory-chip production. Memory chip prices fell 20% last quarter, and Samsung recently announced a chip production cut. Semiconductor giants like Samsung, Micron, and Western Digital are losing money on every chip they produce. The industry's oversupply is historic, hurting demand for devices like PCs, TVs, and phones. On the other spectrum, demand for AI-powered technology is increasing, with chipmakers like Intel and Nvidia concentrating on AI, which could reach $90 billion by 2030, an increase of 8x from 2021.
TikTok Shop is booming in Indonesia, with Seller Centre App totalling roughly 5.5 million downloads last year. This is far higher than any other market where it's being offered. TikTok Shop reportedly racked up $4.4 billion in gross merchandise value across Southeast Asia over 2022, powered by a network of agencies who "manage" livestream presenters and shopfronts for sellers. TikTok Shop's success comes despite a "missed target" in the UK, while fears of a potential US ban due to data privacy issues continue to loom. However, experts suggest that bans are unlikely to happen in Southeast Asia, including Indonesia, due to its growing user base and engagement and the country's reluctance to alienate younger voters who enjoy the platform.