In today's edition:
China's real estate
Samsung's drop in profit
Meta's new AI model release
Market Snapshot
Following the release of minutes from the Fed's policy meeting, US equities dipped. It highlighted central bank officials' willingness to maintain interest rates higher despite the related economic concerns. The Fed anticipates a recession as well. According to the Fed minutes published, officials expect a "mild recession later this year, followed by a recovery over the next two years."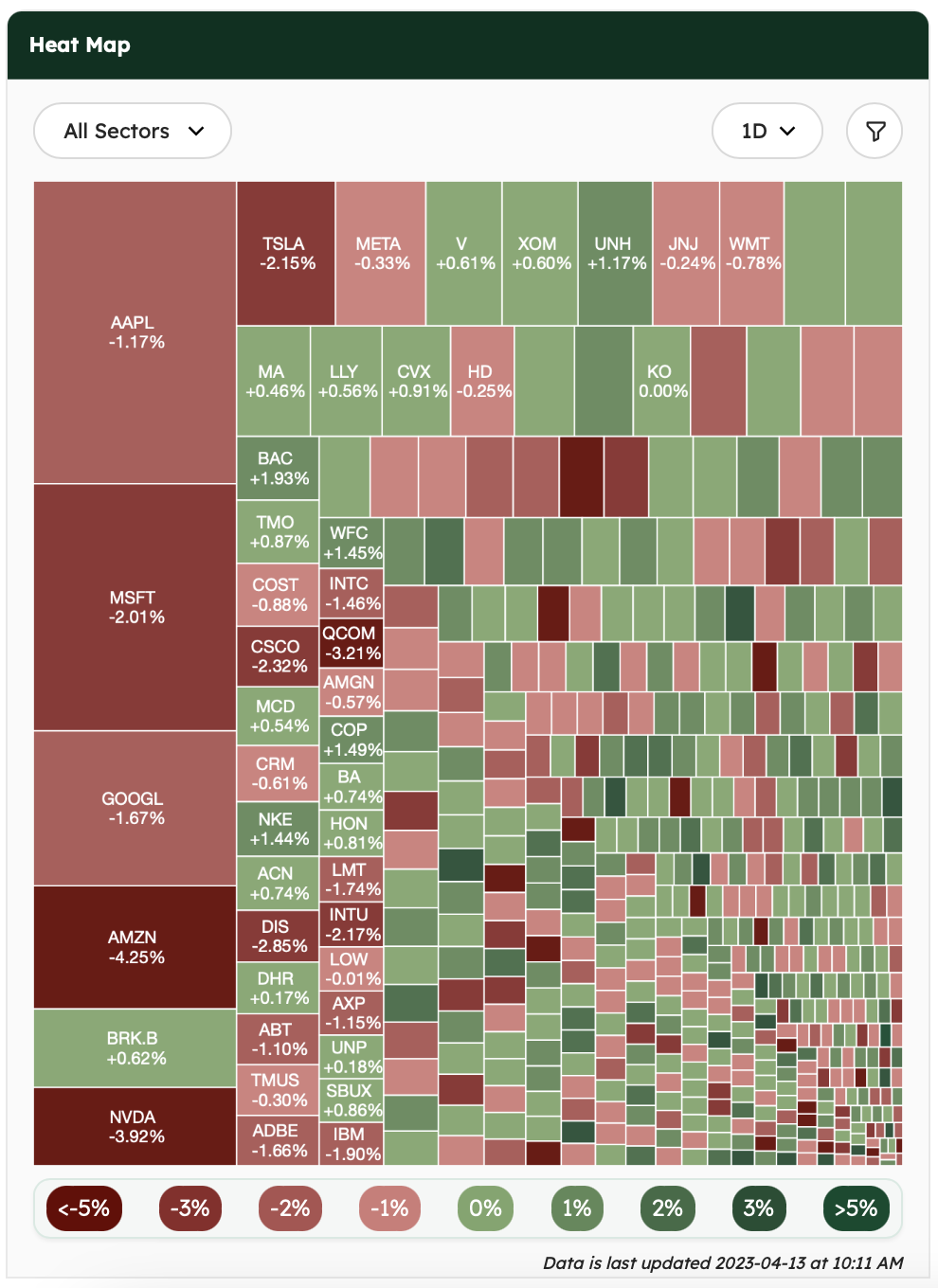 ---
China's real estate oversupply would limit economic recovery
China's property market has an oversupply of unsold apartments. In February, China had 3.5 billion square feet of completed but unsold apartments, equivalent to around four million homes, the worst oversupply since 2017. The situation is most severe in smaller cities with populations of a few million, where the demand is weaker compared to major markets like Beijing and Shanghai. It could take up to six years for a city like Beihai – a city in the Guangxi province with a population of 1.5 million to sell off its stock of unsold homes.
Third-tier cities were attractive to property buyers before the pandemic because their home prices were lower than in larger cities, leading to rampant speculation and construction. However, unfavorable demographics and Beijing's efforts to eliminate speculation have made them less attractive now. The need to absorb excess housing could mean a prolonged period of depressed new-home construction, depriving China of one of its biggest growth drivers and job creators. New-home construction is also crucial for China's heavily indebted local governments, which rely on land sales to developers to balance their budgets.
If China fails to stabilize home prices in its lower-tier cities, which house approximately two-thirds of China's urban population, it will likely dampen household confidence and consumers' willingness to spend, limiting China's overall economic recovery this year. Some big cities have experienced a snapback in demand after reducing mortgage rates and offering subsidies to first-time buyers. Economists at ANZ Group predict that China's property sector is bottoming out. Gradual recovery of China's property sector could contribute as much as a half-percentage point to China's gross 0domestic product growth in 2023.
News Summaries
Meta has released a new Segment Anything Model, which allows AI to extract objects in images or videos with a single click, using advanced computer vision technology. The model is available for everyone to try. Meta has also teased generative AI features, including Make-A-Video, which generates videos from text prompts. Incorporating generative AI into Meta's apps is a priority for CEO Mark Zuckerberg and would make Meta a strong contender in the AI race.
Samsung expects a 96% drop in quarterly profit due to declining sales and slowed demand for its televisions and tablets. Despite this, sales of the new Galaxy S23 phone series increased by 50% from its predecessor, helping Samsung maintain its position as the largest smartphone producer. However, Apple still leads with an estimated 85% operating profit, while the rest of its rivals, including Samsung, comprise the remaining 15%.