In today's edition
Microsoft's Athena chip 
Anthropic's bold funding hunt
Crypto whirlwind
Goldman Sachs navigates profit dip
Gen Z's social media habits

Market Snapshot
US stocks took a hit last Friday with the 10-year Treasury yield briefly touching 5.0% for the first time in over 16 years, rattling already uneasy investors amidst economic and global unrest. 
Major indices including the S&P 500, Dow Jones, and Nasdaq Composite ended the week lower, reflecting the market's apprehension towards the Federal Reserve's continued high interest rate policy amid ongoing inflation concerns voiced by Fed Chair Jerome Powell. 
The upcoming week sees around 800 companies, including tech heavyweights Google and Microsoft, scheduled to release their financial results, amidst a cautious market atmosphere.


Market close data: Week of Oct 16-20, 2023
---
News Summaries
Microsoft is gearing up to introduce its Athena AI Accelerator Chip, a project since 2019, as a rival to Nvidia's offerings. With over 300 personnel on board, Microsoft initially rumored to collaborate with Marvell, now reportedly owns the intellectual property. While Nvidia leads with superior chips and a solid software ecosystem, big tech companies like Microsoft, Google, and Amazon are developing in-house chips to cut costs and dependency. Google's TPU and Amazon's AWS's Inferentia and Trainium chips are steps in that direction. Nvidia, feeling the competition, is diversifying by supporting AI-focused startups and contemplating its own cloud service, moving from merely reselling hyperscaler-owned equipment to potentially operating its data centers. This tug of war shows Nvidia's attempts to retain its dominant position in the AI hardware world while others are keen on creating self-reliant, cost-effective solutions, reflecting the evolving dynamics of the AI hardware industry.
Anthropic is reportedly seeking an additional $2 billion in funding from Google and others, hot on the heels of a recent $1.25 billion deal with Amazon, showcasing its high ambitions in the competitive AI space. While tech giants like Microsoft and Google have already aligned with or developed their own AI models, Anthropic might find a stronger alliance with Amazon or potentially Apple, though its quest for independence could be a hurdle for acquisition. Despite being a young startup, with projected annual revenues of $200 million, the hefty capital it's raising signifies its aim to rival big players in the AI field. Meanwhile, OpenAI is stirring the pot with talks of selling shares at an $86 billion valuation, hinting at the intense race and high stakes in the evolving AI landscape.
Anthropic is aiming to secure an extra $2 billion funding from Google and others, following a recent $1.25 billion deal with Amazon, showing their high ambitions especially with their AI, Claude 2. However, a potential surprise alliance with Apple could also be on the horizon if terms align, though Anthropic values its independence. Despite their young status, Anthropic is targeting a substantial annual revenue run rate of $200 million by year-end, albeit small compared to the hefty capital they are raising to stay competitive in the big model AI race. Meanwhile, OpenAI, with Microsoft as a significant stakeholder, is eyeing a valuation of $86 billion, hinting at the intense competition and high stakes in the evolving AI landscape, as companies like Anthropic strive for prominence and partnerships to advance their ambitious AI projects.
A false announcement on a crypto Telegram channel claimed that the SEC approved a Bitcoin spot ETF, which soon spread like wildfire when Cointelegraph, a crypto news outlet, picked it up. The false news momentarily drove Bitcoin's price to $30,000, causing a rush among traders and resulting in about $65 million being liquidated before it was debunked. Cointelegraph later retracted the tweet and apologized. This incident reflects how a mere rumor can stir the crypto market, highlighting anticipation for a Bitcoin spot ETF in the US, which is expected to trigger a significant price surge upon actual approval due to increased mainstream adoption and institutional investment. The mischief hints at potential market manipulation, underscoring the need for better news verification in the crypto space. While the false alarm left many disappointed, it offered a glimpse of the market's likely enthusiastic response once a real Bitcoin spot ETF gets the green light.
Goldman Sachs faced a 33% year-over-year profit drop in its recent quarterly report, exacerbating a prior 58% profit decline in Q2. CEO David Solomon, also known as DJ D-Sol, has shelved his DJ pursuits amid distracting media focus. His tenure saw several controversies, from corporate discipline efforts to handling the 1MDB fund scandal. The financial downturn has curtailed Goldman's shift towards a "Main Street" approach initiated with Marcus products in 2016, pushing a return to its core high-finance operations as ventures into deposit and wealth management proved tougher than anticipated.
The recent Gallup poll showcases a significant digital engagement among US teenagers, with 51% dedicating at least 4 hours daily to social media apps. On average, teens spent 4.8 hours on seven major platforms (YouTube, TikTok, Instagram, Facebook, Twitter/X, WhatsApp, and WeChat), with a gender split showing girls online more at 5.3 hours compared to boys at 4.4 hours daily (see Figure 1). While boys favored YouTube, spending about 24% longer than girls, the latter preferred TikTok and Instagram. Messaging apps like WhatsApp saw lesser engagement, with under 15 minutes of use daily across both genders. Age-wise, 17-year-olds were the most engaged, yet a surprising 42% of 13-year-olds also crossed the 4-hour daily threshold, despite just meeting the age requirement for most platforms.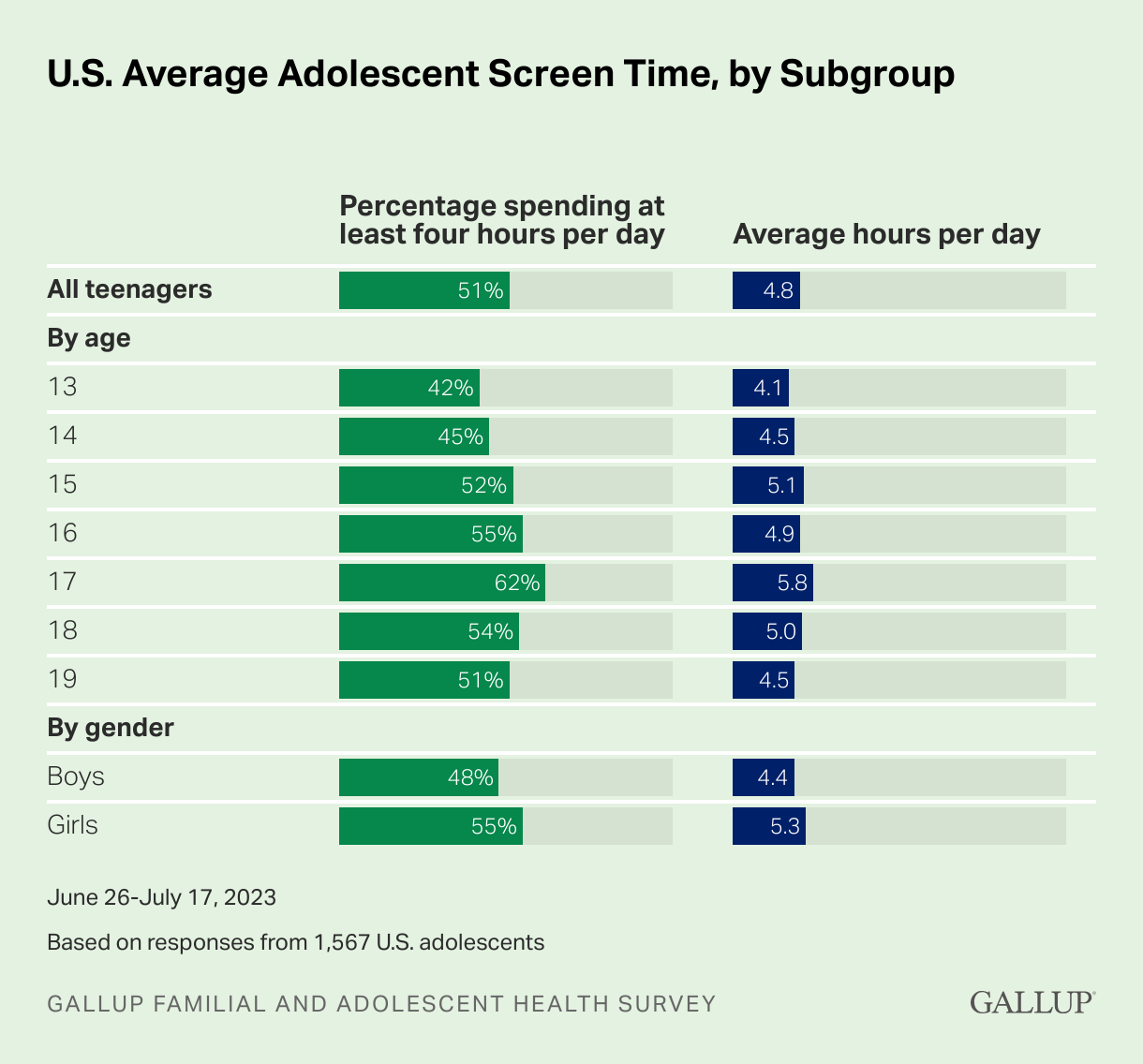 Figure 1: US average adolescent screen time